---
Face & Body Spa Conference & Expo Set to Debut New Southeast Show
Atlanta, GA | October 15-17, 2016 | Cobb Galleria Centre
Face & Body® continues to set the pace for spa conference and expos as it announces a new Southeast addition to its series of shows. Exclusively for spa, skin care and wellness professionals, Face & Body Southeast will take place on Oct. 15-17, 2016 at the Cobb Galleria Centre in Atlanta, Georgia. Last year's Face & Body shows collectively welcomed more than 10,000 professionals with over 300 exhibitors filling the two-day (Sunday-Monday) exhibit halls. The Face & Body Advanced Education Conference is held that Saturday before the expo hall opens. As numerous sectors of the spa and wellness industry continue to see growth, Face & Body continues to build a more elevated experience for its attendees in 2016 and beyond.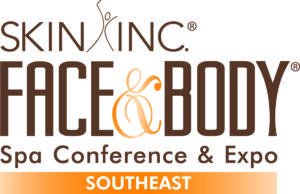 Face & Body represents the diversity of today's spa industry. This annual, innovative expo provides practical business solutions, presents the newest trends, and conveys insight from leading industry suppliers. Beyond facials, the show seeks to explore how to make this service-based spa industry stronger, as it is built on trends and evolving consumer preference. In addition to its traditional education focus and exhibitor base, Face & Body Southeast's areas of growth include education on spa protocols, med-esthetics and massage, as well as other services increasingly being offered by day and resort spas.
"With nearly 4,000 highly qualified professional attendees in 2015 and on-site renewal rate for 2016 booth sales increasing 210%, it's clear that Face & Body is on a growth trajectory," said Sandy Chapin, group show director. "And to meet the needs of this growing attendee and exhibitor base as well as those of the evolving industry, it is also clear that Face & Body must continue to create new and targeted opportunities and features of the Face & Body Southeast expo hall."
For more than 20 years, the Face & Body event has brought industry professionals a top-notch, product-neutral Advanced Education Conference program, numerous networking opportunities and a leading expo. This highly- regarded event is presented by the professional skin care industry's leading publication, Skin Inc. magazine.
Online event registration for Face & Body® Southeast is now open. On-site registration will be available. For more information on Face & Body® Southeast, visit www.faceandbody.com/southeast.
---
Trending Now
You may also like