---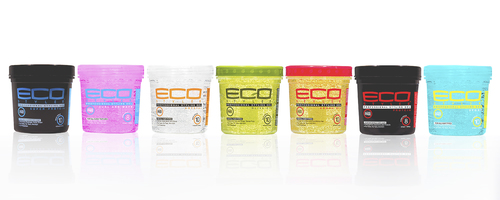 Ecoco Styling Gels
An all-natural styling choice for salon professionals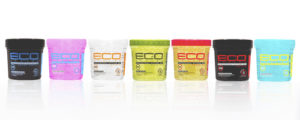 Ecoco is a Chicago-based cosmetics company specializing in professional hair products that are all-natural and eco-friendly. Ecoco was founded in 1985 as a quality beauty manufacturer with a mission of producing multicultural and eco-friendly products for beauty professionals and the average consumer. Every salon product is made with naturally derived ingredients manufactured from all over the world. Drawing a diverse clientele, Ecoco products are made for all hair types, specifically natural hair.
In keeping with the company's commitment to the environment, Ecoco built a new headquarters in Chicago's West Town in 2014 to make more advances in eco-friendly innovations and green technologies for their beauty products.
One of Ecoco's most interesting brands is the Eco Style Professional Gels, a collection of hair styling gels that can be utilized by beauty professionals and consumers.
Ecoco was the first on the market to produce alcohol-free styling gels. With unique ingredients and formulations in each, the Eco Style professional styling gels work to produce optimum results for different hairstyles. The collection features eight varieties of gels. Some styling gels from the collection that we love include:
The Eco Styling Gel with Olive Oil, which is formulated with 100 percent olive oil in addition to other natural ingredients. This gel works to deeply condition and moisturize the hair and scalp while maintaining a maximum hold as you style. The special olive oil ingredient inside helps regulate the hair's natural moisture system, reducing frizz and creating shine. The gel also provides UV protection for hair. The Eco Style Gel with Olive Oil is great for more flexible hairstyles.
The Eco Style Professional Styling Gel with Moroccan Argan Oil works the best for naturally-textured, sometimes resistant hair. This styling gel is made with 100 percent Moroccan argan oil, vitamin E and other omega acids to condition and revitalize hair. The result is softer hair with a natural sheen. The gel helps support a strong hold without weighing the hair down. For any hairstyle, the Eco Style Gel with Moroccan Argan Oil helps improve elasticity and helps maintain styles the way they are.
With unique ingredients and formulations in each, the Eco Style professional styling gels work to produce optimum results for different hair styles.
The Eco Style Krystal Gel is great for naturally curly hair types. It works for any hairstyle or color. As you style, the gel does not cause flaking, tacking or irritation to the scalp. A water-based gel that provides moisture for healthy hair, Krystal will add body and shine to strands, giving finished hairstyles a polished look. The Krystal gel is an ideal choice to use whenever working with curly textures affected by color and styling damage.
If you are familiar with doing roller sets, finger waves and wraps for clients, the Eco Style Protein Gel was designed with these hairstyles in mind. With high levels of wheat protein, the gel nourishes and fortifies hair for soft-hold styles with less gel. This gel prevents flaking and splits when styling and adds volume and sheen to hair for a great finish. With Eco Style Protein Gel, you can't go wrong.
A terrific collection for all hair types, the Eco Style Professional Gels are a great fit for salon professionals looking for a natural, eco-friendly line to add to their collection of styling products.
For more information on Ecoco and the Eco Style Professional Gels, visit ecocoinc.com.
---
Trending Now
You may also like