Named a hiking must-have by the Discovery Channel and a leading grooming product by The New York Times, Skin Authority MAN is taking charge. Skin Authority MAN is a daily regimen of revolutionary anti-aging products designed to address the challenging needs of men's skin. This simple daily skin workout reverses the signs of aging to produce skin that is fit, youthful and free from irritation.
"The days of men grabbing products from their wife's counter are over. With 83% of men being attracted to products which are specifically packaged for them and males spending $3.5 billion a year on plastic surgery*, it is clear that there is no longer a negative stigma to men taking steps to look better or younger," said Skin Authority CEO Celeste Hilling. "Skin Authority MAN delivers what today's men want: visible results from the first drop and the virtual coaching needed to stick with it long enough to reach their personal skin goal."
Skin Authority MAN combines the best of nature and skin care science to undo and ward off the negative effects of aging, sun, stress and pollution. Technology tuned to men includes:
Dry Finish Technology™- goes on clear, absorbs easily. Skin feels smooth, soft and dry to the touch
AOX Technology™ Boost – antioxidant boost enhances immune defense and accelerates healthy-looking skin
Multi-Purpose Design – each product packs a one-two punch to keep the routine simple
Skin Coaching for Success – free phone and web support by a professional skin care coach ensures ongoing success throughout a lifetime of change
See Skin Authority MAN in action: Watch the video. Skin Authority MAN launches four Age Defying Basics:
               Age Defying Daily Wash – antibacterial gel removes dirt and oil, leaves skin refreshed and ready for a shave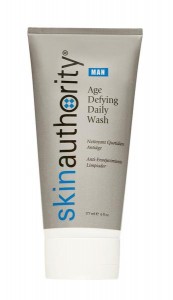 Age Defying Shave Serum – revolutionary serum lifts the hair shaft, not the skin, for an ultra close, irritation-free shave.         Moisturizes  with powerful skin softening extracts
              Age Defying Conditioning Toner – firms and tones skin as it calms irritation and prevents razor bumps
              Age Defying Hydrating Sunscreen SPF 30 UVA 4-Stars – water resistant, lightweight moisturizer provides full-spectrum UV protection to minimize aging effects of the sun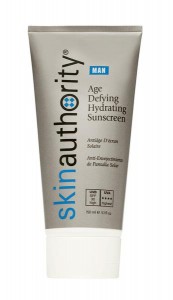 About Skin Authority
Skin Authority is the leading skin care lifestyle company. Through professional guidance & coaching, powerful & pure products, and profound professional treatment experiences, Skin Authority helps consumers make healthy choices to ensure a lifetime of youthful, radiant skin. Skin Authority is available exclusively at more than 250 leading spa partners, high-end retailers as well as online through
http://www.skinauthority.com/
.
*Sources: ISPA and American Society of Plastic Surgeons
Skin Authority is a registered trademark and Skin Authority MAN, Dry Finish Technology, and AOX Technology are trademarks of Skin Authority, LLC.
0
---
---